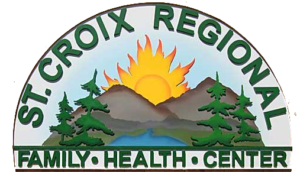 The St. Croix Regional Family Health Center is proud to report that it has received the highest possible level of certification by the National Committee of Quality Assurance (NCQA) as a Patient Centered Medical Home.  A Patient Centered Medical Home (PCMH) is a trusting partnership between a provider led health care team and an informed patient.  It includes an agreement between the provider and the patient that acknowledges the role of each in a total care program.
During 2014, the Health Center team strived to make healthcare available for all.  Our staff of doctors, medical providers, and support staff dedicate themselves to providing the finest health services possible.  The Health Center works closely with health and human service organizations at the local, state and federal levels to ensure that all in the community receive the health care they need and deserve.
St. Croix Regional Family Health Center, Certified Application Counselors (CACs) continue to aid the members of our community with the requirements of the Affordable Care Act.  This service is available to everyone in the community; you do not have to be a patient of the health center to use the services of the CACs.  Please call the health center if you would like more information about obtaining affordable health insurance or you would like help with the reporting of life-changing events, we will be happy to assist you.
A new medical service added during the year is that of our Behavioral Health Consultant.  This person is available to guide people with making life style changes such as smoking cessation and weight loss and has become an important part of the medical visit.  The consultant is available to help set short term, achievable goals, expect to see them during your next visit to the health center!
As always, we welcome new patients, and encourage those in the community who haven't been in for a while, to come in for a checkup or a visit.  Our longtime residents are aware of the advantages of care at a Federally Qualified Health Center, but for our new residents we will list some of the here:
We accept most insurance plans.
Medicare patients do not have to meet a deductible, and routine physical exams are covered by Medicare at an FQHC.
Sliding Fee Discounts are available, based on household size and income.
Stringent credentialing practices and medical practice criteria must be adhered to according to federal standards.
Quality Assurance standards must be maintained according to federal guidelines.
A very big thank you to the Board of Directors of St. Croix Regional Family Health Center for their support and unwavering commitment as the staff strives for excellence.  They take great care to make certain their decisions regarding, systems, equipment and services, put us in the best possible place for the future
We look forward to another great year at St. Croix Regional Family Health Center.  Please plan to attend the Annual Fall Festival, October 2015 (watch for the date and time).  As always, we welcome comments or suggestions from the community, so if you would like to contact me, please call 796-5503.
Respectfully submitted,
Corinne A. LaPlant
Executive Director