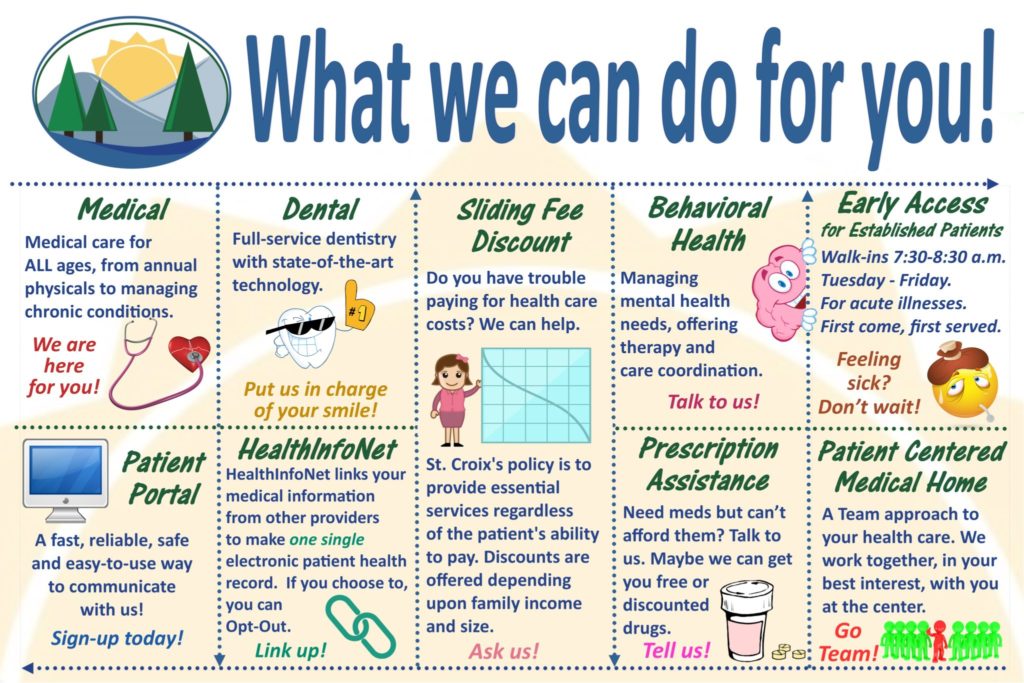 Referrals
Care managers are available to assist in scheduling a referral appointment when ordered by your provider (such as physical therapy, x-ray, ultrasound, specialist, surgery). The care manager may give you information to schedule your referral appointment yourself or he/she will arrange the appointment and contact you with the appointment information.
Routine referrals generally take 4 weeks to schedule the appointment. Urgent referrals will be scheduled as soon as possible. The care manager will call you with the appointment information when the referral is scheduled.
Please make sure that the care manager has your current phone number, address and insurance information to schedule your referral.
If you are unable to keep the referral appointment, please call the health provider that is expecting you for the appointment (doctor, hospital, imaging center, etc.) to cancel and reschedule the appointment.
HealthInfoNet
SCRFHC participates in HealthInfoNet. HealthInfoNet links your medical information from other providers to make one single electronic patient health record. You may opt out of HealthInfoNet. If you choose to opt out, it will delete all of your information. If at any time you choose to log back in, it will not capture any previous information.
Test Results
SCRFHC nursing staff and providers review test results on a daily basis. You will receive a call after your provider has reviewed the results of your test or procedure.
If you are not reached directly, a message will be left on your answering machine or voicemail (if you have given permission to leave a message). If you receive a message to return your call about your test results, please return the call to the nurse as soon as possible (207-796-5503).
Payment and Financial Assistance
Each patient must meet his/her financial responsibility for SCRFHC to continue to provide medical care.
No one in need of care is turned away due to financial reasons.
Payment is due at time of service: Please be prepared to make payment for services at the time of the appointment when the service is provided.
SCRFHC accepts cash, credit/debit card and personal checks.
Financial assistance plans: SCRFHC offers payments plans and financial assistance programs for uninsured, underinsured and self-pay patients who qualify. Ask the reception desk for an application for the Sliding Fee Discount Program.
Medical Record and Form Completion Request
Medical Records will be transferred to another provider at your written request. You will need to sign a consent for release of our records and give the office our fax number (207-796-5528). When the consent is received, your records will be faxed to the named provider as soon as possible, usually within 30 days of the request.
Third Party Forms (such as disability, utility assistance, FMLA, etc.) take time to complete. Please contact the health center as soon as you receive the forms to make arrangements. A medical appointment may be required for your provider to complete the form with current, accurate information.