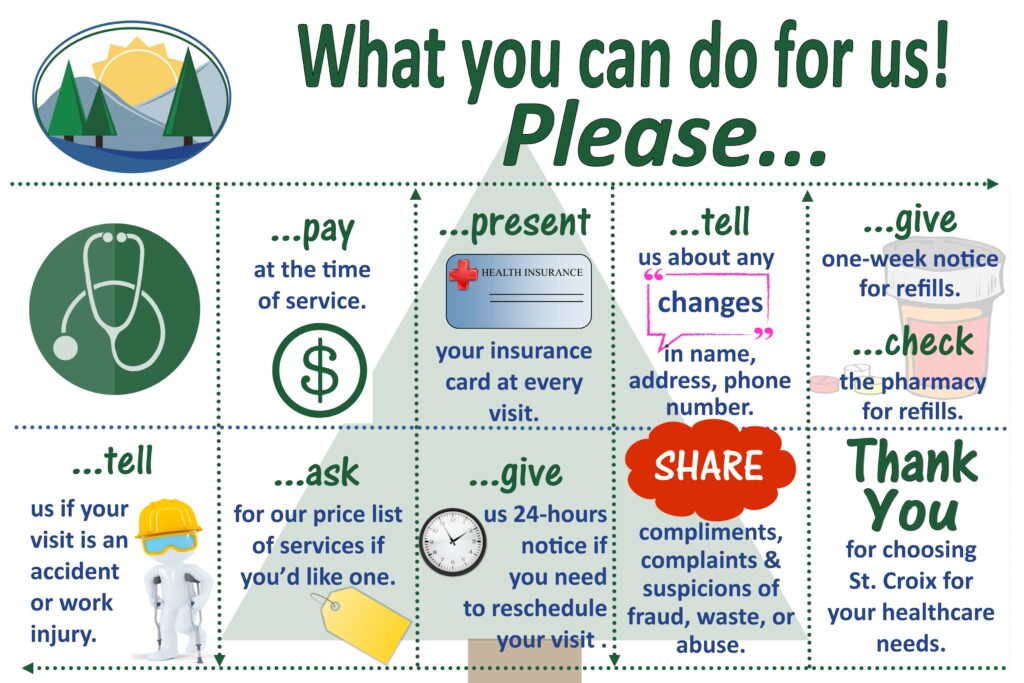 St. Croix Regional Family Health Center, 136 Mill Street, Princeton, ME 04668
Ph: 207-796-5503
Opening Hours
Monday:             8:30 am – 5:00 pm
Tuesday:             8:30 am – 7:00 pm
Wednesday:       8:30 am – 5:00 pm
Thursday:           8:00 am – 7:00 pm
Friday:                8:30 am – 11:30 am
Saturday:           Closed
Sunday:              Closed
24/7 Telephone Coverage/After Hours:   
(207) 796-5503
In case of emergency: CALL 911
If you're hard of hearing, deaf, or speech impaired, contact Maine Telecommunications Relay Service by dialing 711 (V/TTY)
NOTE: Early Access for Established Patients has been suspended due to COVID.
EARLY ACCESS FOR ESTABLISHED PATIENTS (Established Patient is a person who has been seen by a SCRFHC medical provider in the past three years.)
Tuesday – Friday: 7:30 a.m. – 8:30 a.m.  First come, first served.
Scheduling an Appointment:
To schedule an appointment: Call the main number and speak to a receptionist.
Interpretation services: If you are non-English speaking, please let us know if you need an interpreter for your appointment. There is no charge for interpretation services. If an interpreter is not available for the language needed, a telephone translation service may be used or the appointment may be rescheduled. American Sign Language requires 3 days advance notice to schedule.
What to bring: For each appointment bring your picture ID, insurance card, current address and phone number, your medications in the original bottles, and immunization records for children.
Confirm your appointment: Please call to confirm your appointment 2 to 3 days in advance of the appointment. If you have not confirmed, you will receive a reminder call 1 to 2 days before your appointment.
Cancel your appointment: Should you need to cancel, please call 24 hours in advance or as soon as possible. We will be happy to reschedule your appointment.
Missed Appointment: "No Show" for scheduled appointment – Missed appointments deny other patients access to care. As a courtesy to other patients, please call in advance when you are unable to keep your scheduled appointment so the appointment time can be given to another patient who needs to be seen.
Appointment Time
Running late: If you are going to be late for your appointment, please call ahead. Your appointment may be rescheduled for a later time, if available.
No one likes to wait: Our goal is to see you at your scheduled appointment time. If there is a delay, be assured that you will be given the time and attention you need when you are seen for your appointment. The clinical staff will let you know if there is a delay. Depending on the situation, you may arrange to leave and return at a specified time. If you are unable to wait, your visit will be rescheduled for the next available appointment.
Call ahead to check arrival time: You are welcome to call us before your appointment time to confirm your arrival time. If you are leaving work to keep your appointment, we recommend that you call ahead to confirm your arrival time to avoid extended time away from your job.